The ad HOFMANN City 4 Markiermaschine selbstfahrend road marking machine has been sold and is not included in the search!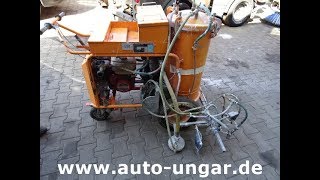 1/10
Model
City 4 Markiermaschine selbstfahrend
Type
road marking machine
Location
Germany
Wendelstein
Placed on
more than 1 month
Markiermaschine:

- Zindel City 4
- Baujahr 1989
- Motor: 5PS Honda GX140
- Perlbehälter / Perlstreuer
- Farbtank 60ltr. / Farbspritzen
- Kettenantrieb (selbstfahrend)

Video unter: https://www.youtube.com/watch?v=-d-cPFvE2dM&feature=youtu.be

Unseren gesamten Fahrzeugbestand finden Sie unter www.auto-ungar.de

Alle neu eingestellten Fahrzeuge per email erhalten – melden Sie sich bei unserem NEWSLETTER an!
Irrtümer und Schreibfehler möglich, Zwischenverkauf vorbehalten!