The ad CLAAS scorpion 7050 telescopic wheel loader has been sold and is not included in the search!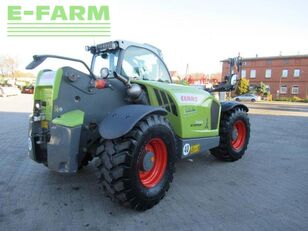 1/20
Type
telescopic wheel loader
Location
Germany
Hamburg
Placed on
more than 1 month
Seller stock ID
46618-DENDKCE
Betriebsstunden: 3551
________
CLAAS SCORPION 7050;;Blokada osprzętu hydrauliczna;Wtyczka elektryczna dla dodatkowej funkcji;Gniazdo elektryczne przyczepy z tyłu;Zaczep automatyczny;Lusterko nad zaczepem;Olej hydrauliczny standardowy;Układ hydrauliczny LS 187 l/min;Zawór 5 drogowy;Pakiet hydr. I;Automatyczny powrót do zaprogramowanej pozycji;Uwalnianie ciśnienia w 3 obwodzie z przycisku;Potencjometr 3 obwodu;Ciągły przepływ w 3 obwodzie;Moduł elektroniczny;30 km/h VARIPOWER SmartRoading;Ogumienie 500/70-R24, Michelin;Fartuch ochronny w górnej części ramy;Guma do czyszczenia ramienia;Diesel engine 100 kW/136 HP, Stage IV/Tier 4;Chłodnica przystosowana do rolnictwa;Wsteczne obroty wentylatora;Ogrzewanie kabiny;Kolumna kierow., przestawiana dwustopniowo;Fotel amortyzowany pneumatycznie;Klimatyzacja manualna;Wycieraczka prawej szyby;Chłodzony schowek;Oświetlenie tablicy rejestracyjnej;Oświetlenie robocze plus;RBS - stabilizator obciążenia;Zastosowanie ładowarki w rolnictwie;Wyłącznik masy;Homologacja EEC traktorowa;Blokada siłownika ramienia (;Elektryka belki 10 przewodów;Automatyczne zabezpieczenie przeciążeniowe ramienia;;;W PRZYPADKU KOMBAJNÓW ZBOŻOWYCH I SIECZKARNI SAMOJEZDNYCH PODANE GODZINY DOTYCZĄ EFEKTYWNEGO CZASU PRACY MŁOCARNI LUB BĘBNA NOŻOWEGO.;;;;"Niniejsze ogłoszenie jest wyłącznie informacją handlową i nie stanowi oferty w myśl art. 66, § 1. Kodeksu Cywilnego. Sprzedający nie odpowiada za ewentualne błędy lub nieaktualność ogłoszenia". Preferowana sprzedaż tylko po oględzinach maszyny. Po sprzedaży bez oględzin brak możliwości renegocjacji ceny. Za sprzedaż na odległość sprzedający nie ponosi odpowiedzialności . Stan (km, mth, ha, ) może ulec zmianie.